Build-A-Blog: How To Create Your About Page, Contact Page, and Content
Welcome back to the Build-A-Blog Series! If you haven't been here before you've missed a whole lot and I'd advise taking a brief look back at previous posts. So far, we've covered deciding on a niche, domain names, webhosting and WordPress. If you're all caught up, let's jump right on in. After you have some of the logistics listed above figured out you will need to start creating content. In order for your content to be well received you should also share who you are through an about page.
This is the meat of your blog, if not the entire blog itself. Your content is what you have to offer to readers to make them keep coming back for more. This content is essential but there are also a few static pages that hold a bit of weight as well. In addition to your blog posts, readers want to know who you are and why you have the authority to share the information you do. This is where your about page comes in. considering this, you may want to facilitate your readers being able to ask questions or engage with you, which can be done through a contact page.
Creating Your About Page
I would argue that the about page for your blog is one of the most important. This is where your readers get the first impression of you and your blog. To this day, my about page is in my top 5 highest traffic pages. When people read your content they want to know who it is coming from and why they should trust you. It's your introduction to people who may only have a chance to "meet" you virtually through your content. You are the reason readers will come back, your content may not be super unique but you and your personality are the difference between similar content.
Your about page should cover who you are, what content you produce, why you produce it, and any other fun details that show your personality. Unless you are really averse to the idea, I think it is always best to include a picture as well. If you are a fashion blogger, talk about your journey with fashion, what has attracted you to it, and maybe your favorite affordable and luxury brands. If you are a general lifestyle blogger and will be blogging about a range of things, this is a good place to get a little more specific. Tell your potential readers why sharing your everyday hacks or experience is important to them.
Building the page
In order to actually build this page through your WordPress Dashboard you will need to navigate to "Pages" and select "add new". Once you make it to that blank page you have free reign.
On my about page, I started with a brief explanation of the goal of my blog and what it was all about. Then I went into why I'm a travel blogger (I took a huge Europe trip summer 2019). It was important for me to include that information because I am a budget traveler. I want people to know I am relatable. I got a scholarship to travel, money wasn't just flowing, I had to make it work. Following that explanation, I listed some of the destinations I'd be writing about and my travel partner that would be featured in some of my posts. At the end, I have a section that's dedicated to just me.
In short, 75% of my about page is about the basis of my blog and explanations as to why I'm blogging about what I blog about. The following 25% is just about me and who I am as a person although that is embedded in my writing of the first sections too.
Another way to show your relatability and build a community around your blog is to have people reach out to you through your contact page. Be sure to direct people to your contact page if they have any questions or anything they'd like to talk to you about.
Creating a Contact Page
Your contact page is just that, a page where your readers can navigate to reach out to you directly. Typically this will be a form where they fill out their name, comments, and email in order to send an email directly to you. Some WordPress themes may already come with a plugin and contact page set up already. If this is not the case you will need to download a contact form plugin. I suggest Contact Form 7, it is pretty much the standard and it is very simple to use. Simply, navigate to your plugins tab and search "Contact Form 7" and download it.
Step-by-Step
Once downloaded, there should be a new menu item on your dashboard that reads "contact". There you will see a page that looks like this: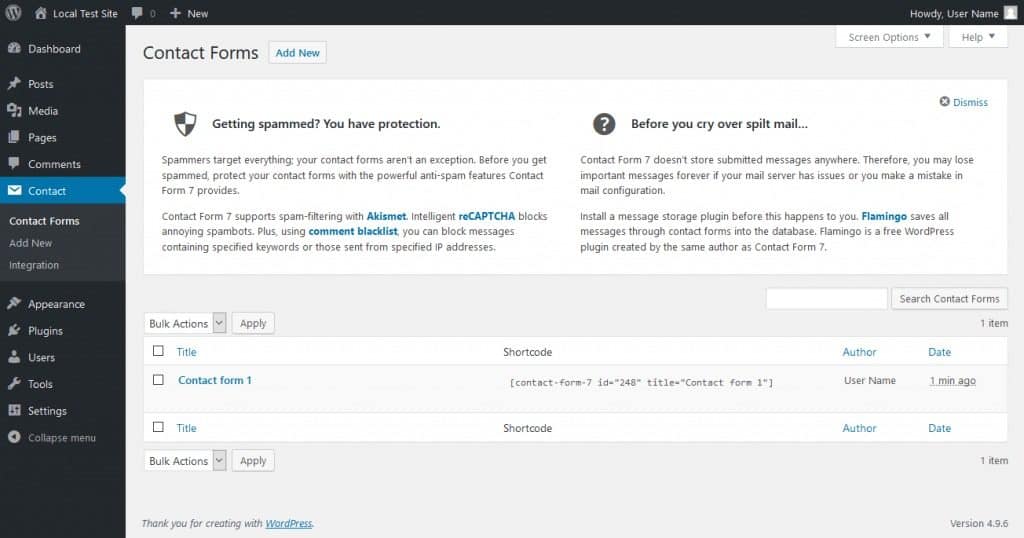 On this page, you can start editing your contact form by clicking on the one listed, "contact form 1". From here you will be directed to a page that may look a little confusing. This page lists HTML for the different contact page fields that your readers will be filling out when attempting to contact you. You can use the buttons above the fields to add any extra fields you deem necessary. Feel free to play around with what you'd like to include.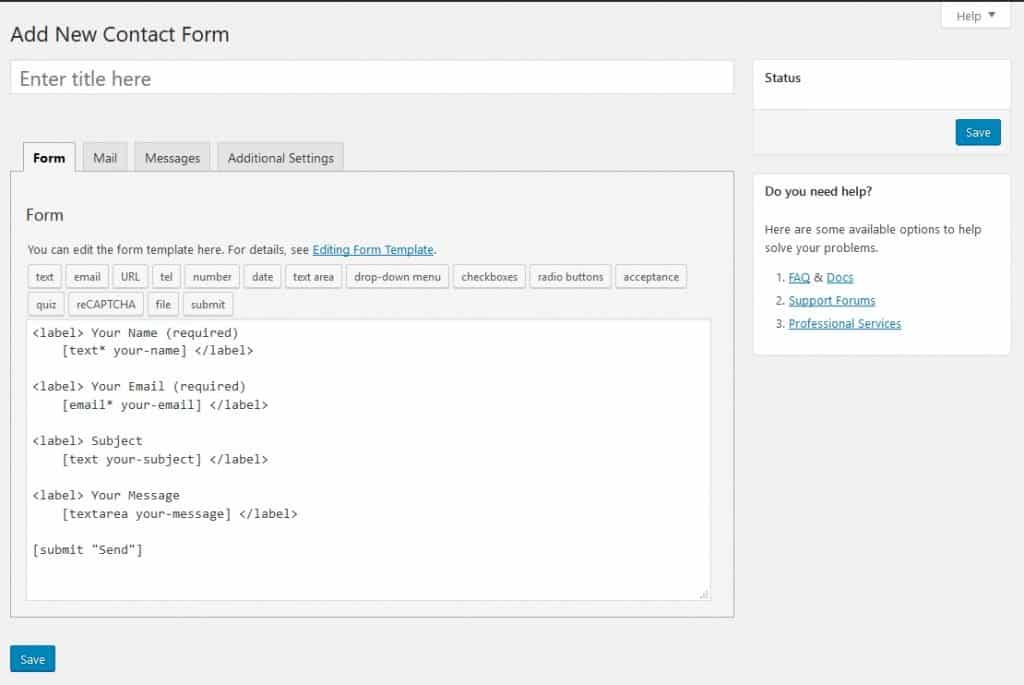 Personally, for my contact page, I kept it very simple. I kept the standard fields that were already on the contact form. That was honestly all I needed. If you keep with the standard set up your form will look like this: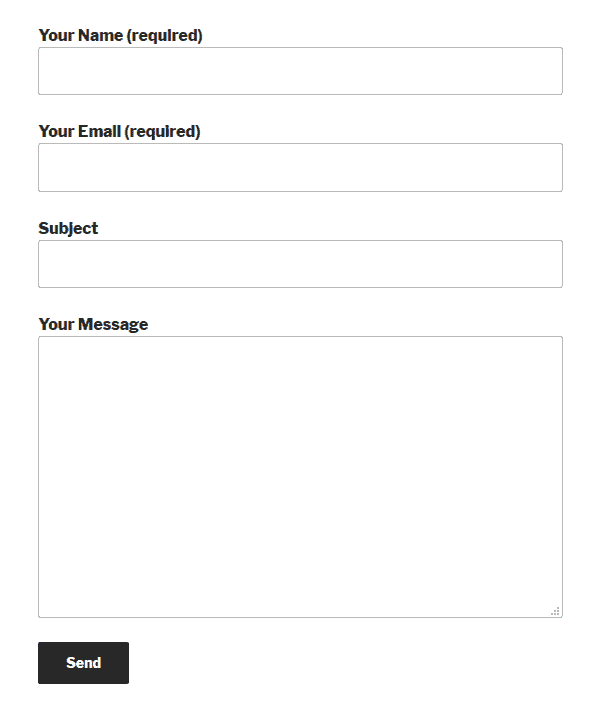 If this works for you, you can do ahead and save the form as is and proceed to next step; having filled out forms sent to your email. Navigate to the "mail" tab and input the email where you'd like to receive forms in the first box. This should be the only thing you have to edit on this page. Everything else is in reference to what information will be included in the email that gets sent to you. The standard settings work fine for me.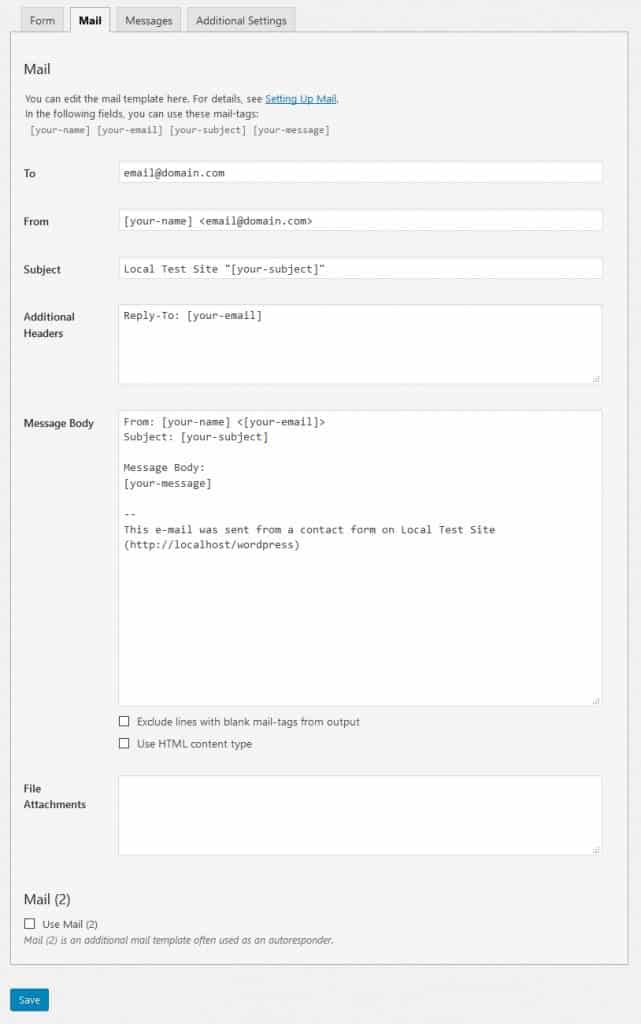 The next tab reads "messages". This tab shows you a list of message options that will be shown to the reader after submitting it. I believe I have mine set to the standard ones you see here: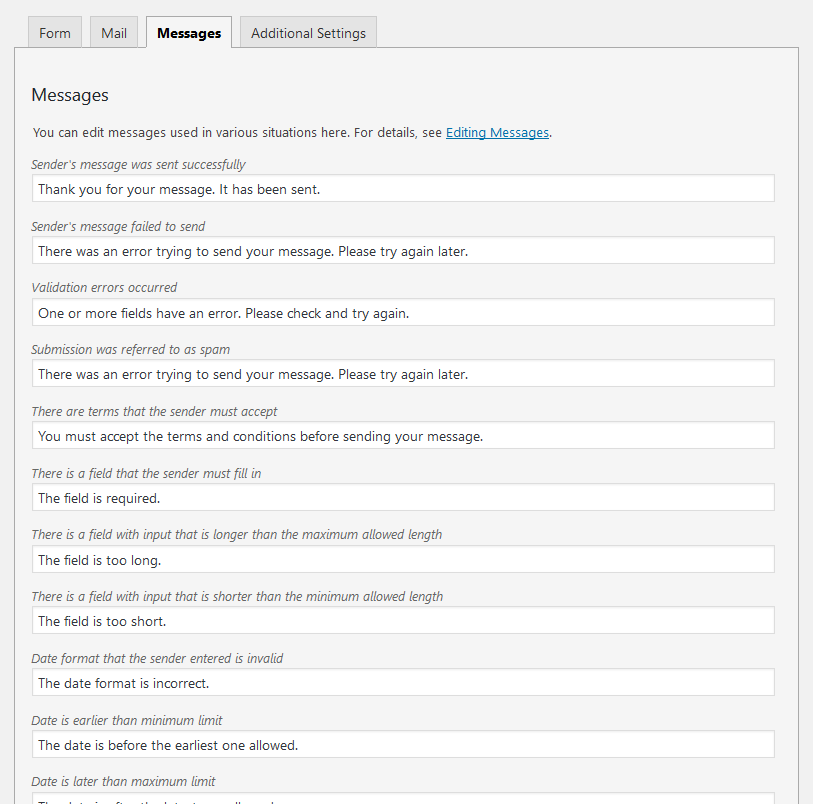 Once completed you can save and move on to the last step; getting the form on the page you want it on. At this point, if your basic contact page does not exist you can add a new page for it. At the top of this page, you can add a title. You could do something simple like "Contact" or "Can't Wait to Hear from You". I'd advise throwing in a few sentences of what you are expecting your readers to come to this contact page for as well. In order for the contact form you just created to show up on this page, you will need to copy and paste the shortcode that it produced upon saving it.

Once pasted into your new page – it will appear as just the shortcode. When you actually publish the page or preview it you will see the actual form set under any writing you put on the page. Voila!
Your First Blog Posts
Now that you have your static pages up you are probably ready to start churning out content. I would advise having a few posts ready before you officially launch your blog. Launching a blog with absolutely no blog posts is not the best idea. I made sure to have about 5 posted before my blog was officially up.
If you truly want to seem like a dependable source, starting off with multiple posts is the best tactic. That way, when people visit your site there is already plenty of content for potential readers to enjoy. When creating your content, remember to think about who you are writing for and why this information is important. New readers who don't know you in real life are only coming if you have something of value to offer. Whether that be a guide on how to do something or knowledge in a specific subject. Your blog should reflect you in some ways but should not only be useful as an online journal. That being said, sharing your own experiences is valuable! People can learn from your experiences but make sure there is always a thread of relatability.
Let's get Technical
In your WordPress Dashboard menu, there is an option that reads "posts". This is where you will go to work on your posts, edit them, and publish them. Some prefer to type up their posts on Microsoft Word and copy and paste them. I find it easier to start writing inside the dashboard. That way when you are adding headings, pictures, or any other elements you can do it as you go.
Once you are inside your new post you will see "Add Title" at the top of your page. After entering the title, there will be a small box that says something like "start writing". Your posts will be composed of these boxes called blocks. If you want to start a new paragraph, pressing the enter key will create a new block. If you want to do something specific to the content in your block once you click on it your given a menu bar that looks like this:
This menu bar will allow you to do a range of things but most of the options are listed in the dropdown under the paragraph sign. The other buttons are ones you would typically see on Microsoft Word, like alignment, bold, or italicizing. Clicking on the paragraph sign allows you to change the type of block you are working in.
When creating a new block there will usually be a plus sign in the far right of it. This will provide a similar menu of block options. These options will be more thorough, including page breaks, headings, images, spacers (blank page space), or tables, etc.
Pro-tip: what you see in this editing page may not be what it looks like when published. In order to actually see what your readers will see, you should navigate to the preview button at the top of your page. Before previewing, make sure to save your draft as well. Make sure to only hit "publish" when you are ready for the world to see your post.
See you next post?
I'm hoping you have read the entire series and are steps closer to your new blog! This can all be a bit frustrating and seemingly difficult but I promise it pays off in the end. On the bright side, you have me at your personal service to guide you through. You can use my handy dandy contact page and we can work through specific things together! Our next Build-A-Blog post will go a bit more in-depth in the launch and marketing of your blog. In the meantime, get to creating! There's plenty of people out there waiting for the content only you can provide.